First Baptist Benbrook's Children's Ministry is built around four actions that Christians are called to do. Partnering with parents, our goal is for children in our ministry to LEARN about God, to LOVE Him and His truths, to LIVE Him out in their lives, and to be equipped to LEAD others to Him.
KINDERGARTEN – 4th GRADE
This segment of our children's ministry understands that children learn in a variety of different ways. Children are presented the Bible on a level that they can actually grasp, and in ways that are consistent with how they are developing. Children engage in activities and Bible lessons that are developed to cater to their leaning styles. While children will be LEARNING and LOVING the emphasis is put on developing the foundations for which children will begin to LIVE Jesus out in their lives and seek to LEAD others to Him. Helping children understand how to apply what they have LEARNED to how they LIVE and Lead is the goal of this age group within our ministry. Family events are offered throughout the year so keep an eye out for upcoming events.
BIRTH THROUGH PRE-K
Children in our preschool department will have a blast learning about God while in a safe environment. Teachers provide the preschoolers with Bible lessons that engage the children through music, games, and other hands-on activities, in order that children can have a Biblical experience that leaves a lasting impression on their lives.
Schedule of Weekly Events
Sundays
10:00 am Sunday School for all ages.
(Nursery is provided during both worship services for ages 3 and under.)
Wednesdays
AWANA Clubs (3 years old to 4th grade) Sept. 6th – May 16th – 6:30-8:00 pm.
Preteen Bible Study (5th & 6th graders) Sept. 6th – May 16th – 6:30 pm-8:00 pm.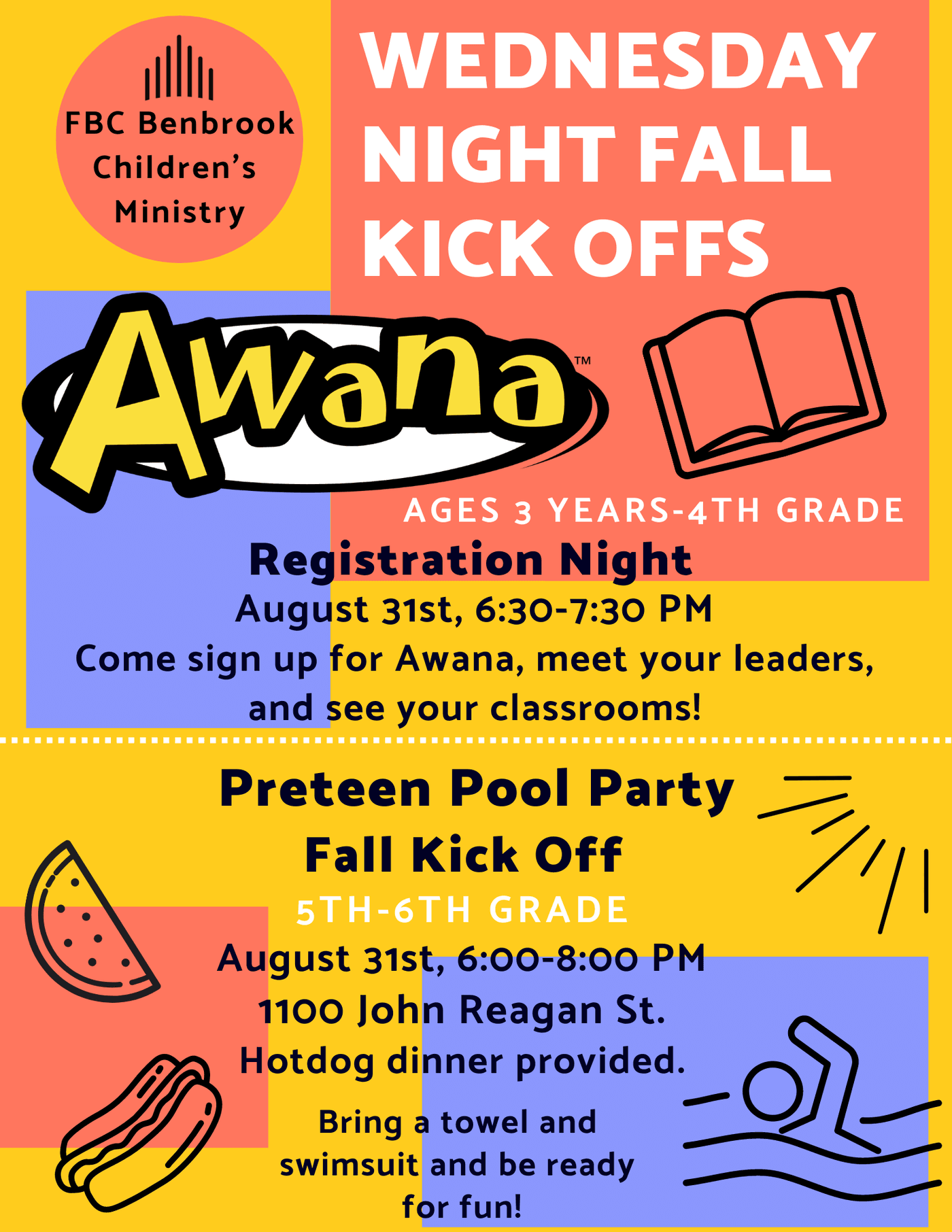 Interested in Serving in the Children's Ministry?
We highly value your trust, we will never sell, distribute, or share your information.