What does the Bible say about the Family?
God has ordained the family as the foundational institution of human society. It is composed of persons related to one another by marriage, blood, or adoption.
Marriage is the uniting of one man and one woman in covenant commitment for a lifetime. It is God's unique gift to reveal the union between Christ and His church and to provide for the man and the woman in marriage the framework for intimate companionship, the channel of sexual expression according to biblical standards, and the means for procreation of the human race.
The husband and wife are of equal worth before God, since both are created in God's image. The marriage relationship models the way God relates to His people. A husband is to love his wife as Christ loved the church. He has the God-given responsibility to provide for, to protect, and to lead his family. A wife is to submit herself graciously to the servant leadership of her husband even as the church willingly submits to the headship of Christ. She, being in the image of God as is her husband and thus equal to him, has the God-given responsibility to respect her husband and to serve as his helper in managing the household and nurturing the next generation.
Children, from the moment of conception, are a blessing and heritage from the Lord. Parents are to demonstrate to their children God's pattern for marriage. Parents are to teach their children spiritual and moral values and to lead them, through consistent lifestyle example and loving discipline, to make choices based on biblical truth. Children are to honor and obey their parents.
Scripture
Genesis 1:26-28; 2:15-25; 3:1-20; Exodus 20:12; Deuteronomy 6:4-9; Joshua 24:15; 1 Samuel 1:26-28; Psalms 51:5; 78:1-8; 127; 128; 139:13-16; Proverbs 1:8; 5:15-20; 6:20-22; 12:4; 13:24; 14:1; 17:6; 18:22; 22:6,15; 23:13-14; 24:3; 29:15,17; 31:10-31; Ecclesiastes 4:9-12; 9:9; Malachi 2:14-16; Matthew 5:31-32; 18:2-5; 19:3-9; Mark 10:6-12; Romans 1:18-32; 1 Corinthians 7:1-16; Ephesians 5:21-33; 6:1-4; Colossians 3:18-21; 1 Timothy 5:8,14; 2 Timothy 1:3-5; Titus 2:3-5; Hebrews 13:4; 1 Peter 3:1-7.
Parenting Book of the Month - January 2022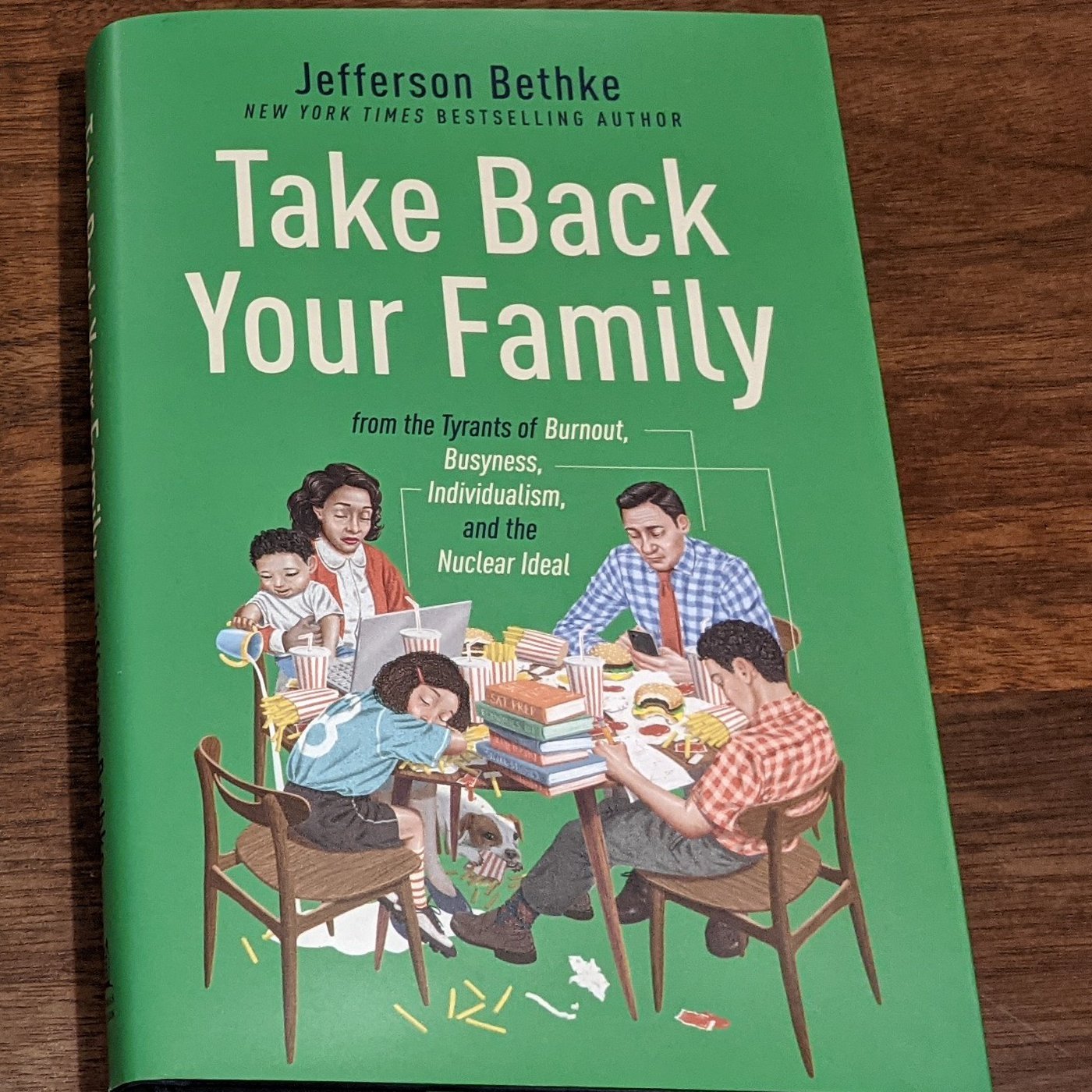 Take Back Your Family - by Jefferson Bethke
"The Western, hyper-individualistic (and consumer based) view of family has been eating away at all of us. But rethinking the meaning of family, specifically thinking of it in terms of a team, with all the group identity dynamics that come with that, is how God intended for us to function."
"Major areas of our lives - like church, education, and sports - are separated and segmented by ages, almost set up in ways that parents and kids never need to interact, and certainly don't need to depend on each other. We break up our schedules and time and moments as a family in order for each person to get what they need (which is, generally speaking, a great and necessary goal, but we've gone overboard) without the family being needed or pivotal to any of those things" Pg 80
The Western Family ideal operates on two universal laws, spoken or otherwise assumed:
I am (or my success, feelings, and trajectory are) the most important thing, not my family. Essentially, I am more important than the family.
Anything that imposes limits on me, at my expense, is inherently wrong. Pg 19
"Individuals depend on themselves; teams depend on each other. One is toxic to a family. The other is the lifeblood of it." Pg 105
The author of Take Back Your Family has created an online resource program called Homeroom for those families that want practical actionable steps to implement this culture in their family.
"Homeroom is an online family and marriage mentor program that teaches you how to build a multi-generational family and marriage team on mission through actionable steps, weekly teachings, practical tools, deep insights and communal action."
Below is the link to the website for further information on how to Take Back Your Family!
Supper Club Sign Up 2022
Supper Club is a chance for you to meet and fellowship over dinner with other church member(s) and church families. Each quarter you will be assigned a new member / family to have dinner with. It is up to the two households to schedule when, where, and what you will eat. Supper Club can take place at your house, their house, a restaurant, or a picnic somewhere. Then for the next quarter you will be assigned a different member / family. The goal is for you to get to know and fellowship with other members / families that you would not normally initiate dinner with. Sign up below to get added to the rotation for 2022. Supper Club is open to everyone at FBC Benbrook.