Sundays
Sunday School - 10 am in the youth room
Each Sunday we have Sunday School classes for 7-12th grade. They engage in teaching from the Bible and community with others. Bible study happens in small adult lead groups broken up between guys and girls.
Wednesdays
Student Worship - 6:30pm
Each week students worship with each other and hear teaching from the Bible. We play games, we laugh and we worship. Student Worship is every Wednesday night in the Youth Room.
Sports Nights
Friday Sept 3rd Godly HS Football Game*
Depart @ 6:30 FBC Benbrook (Church Vans)
$5 for tickets and bring money to grab food
Friday Sept 10th Covenant Classical Football Game*
Depart @ 6:30 FBC Benbrook (Church Vans)
Bring money to grab food
Thursday Sept 30th Benbrook Middle High Football Game*
Depart @ 6 FBC Benbrook (Church Vans)
Bring money to grab food
-More sports and games to be announced-
*RSVP with Blake or Cathy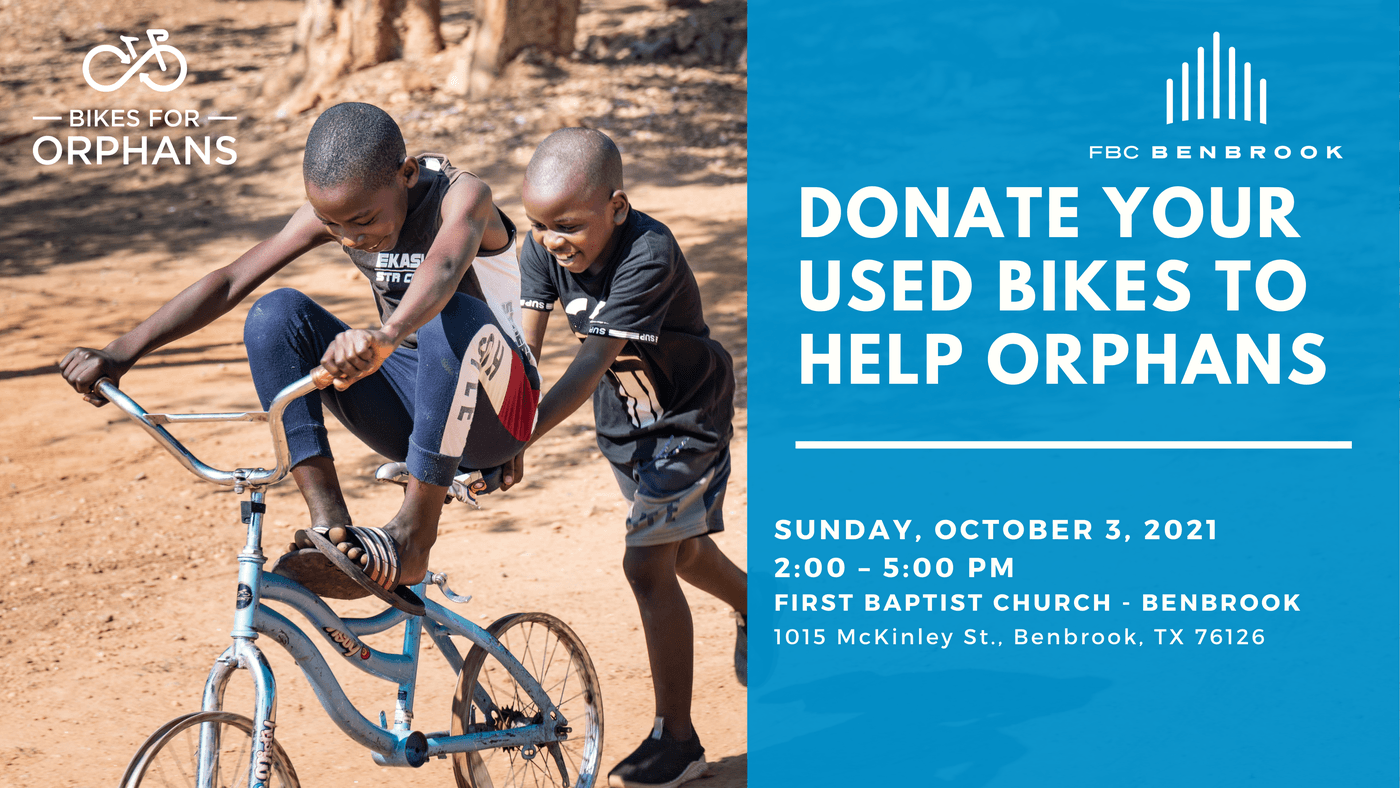 Cost: A container costs $12,000 to ship (about $30 a bike). Donations of $10 to make the bike "ride ready" greatly appreciated.
Will take both adult and children bikes.
After the bikes are collected here, they are loaded into a shipping container and taken to Houston. In Houston they are loaded onto a ship which makes its way to Africa.
The bikes are taken to Zambia where they are unloaded, fixed, and sold in the community. (The bikes aren't for the orphans.) The proceeds first go to pay the workers. These guys grew up in the orphanage. Then the rest of the money goes to fund the orphanage. They sell the bikes in country for $70.
Where the bikes go in Zambia, traveling by bike is a more effective mode of transportation than driving.
The bike shop will take pictures of every bike when they get in country and send those to us to show our church members.
Social Media
Follow us on Instagram @fbcbenbrook_students
*This is a private account for FBC Benbrook members only.
Summer Camp 2021
Youth Camp is a six-day, five-night experience for Students to grow in their relationship with Jesus and to grow in community with one another. We will be going to Falls Creek Baptist Conference Center in Davis, Oklahoma. The theme of this years' camp is Glory.
Dates: July 19-24 (Leave Monday morning the 19th, Return Sat 24th around noon)
Cost: $150
(Cost includes all food, lodging, travel, and activities; scholarships are available upon request.)
Who Can Attend: Students who have completed 7th-12th grade.
Deadline to Sign Up: June 30